Housings
UW HOUSING NAUTICAM FOR ALEXA MINI
(AVAILABLE NOW)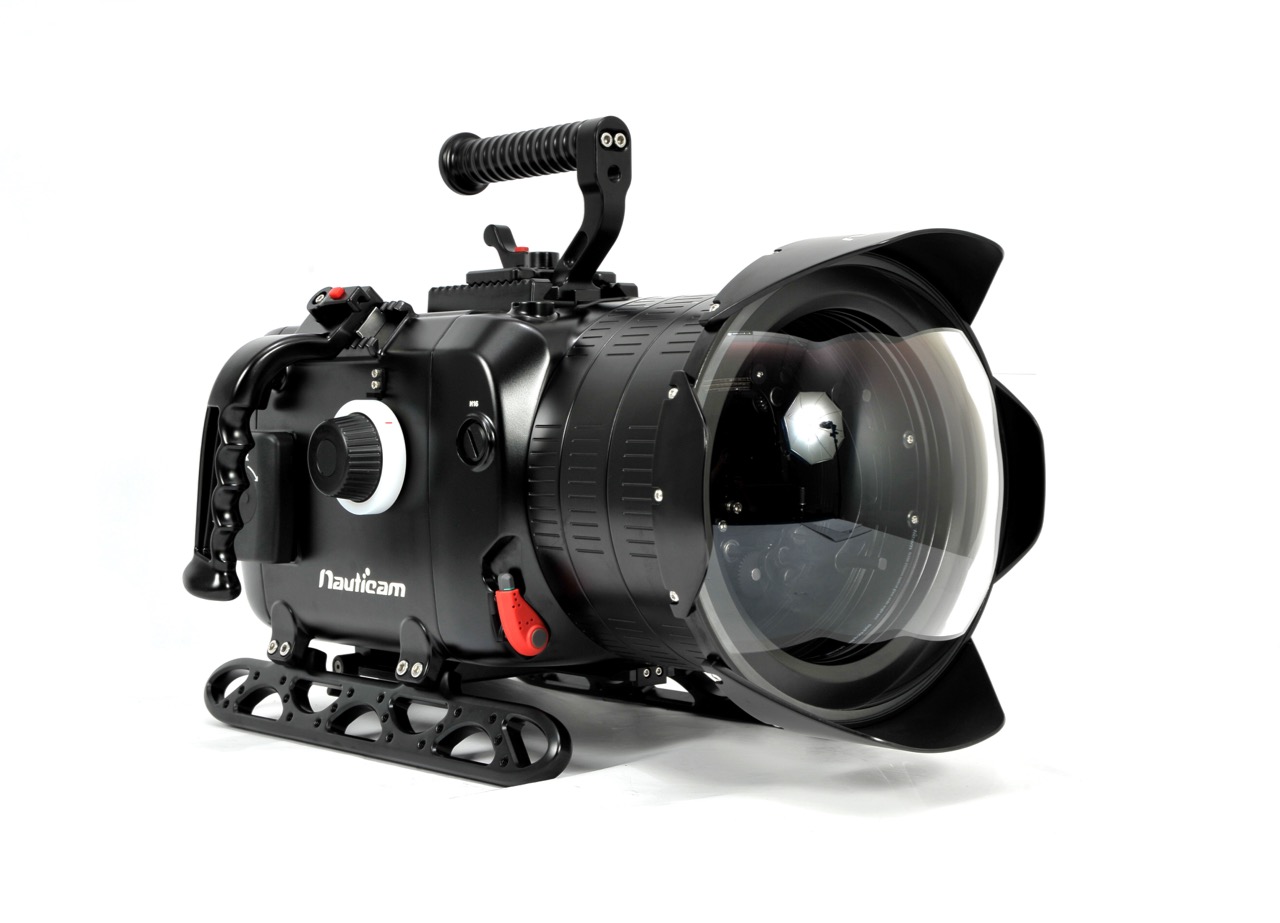 Arri Alexa is the undisputed king of the feature film and commercial production video worlds, and the latest form factor iteration brings the amazing Alexa image quality into a super lightweight carbon fiber body that is less than half the length of an Alexa XT, and weighs 2.3kg / 5 lbs. Alexa Mini is ideal for use on drones, gimbals, and integrates perfectly into the Nauticam Cinema System. The 4:3 Alexa sensor, complete with anamorphic de-squeeze, ArriRAW, and ProRes recording in camera to CFast 2.0 cards in an underwater system.
Footagethat cuts seamlessly with other Alexa cameras cameras on set, with the same workflow.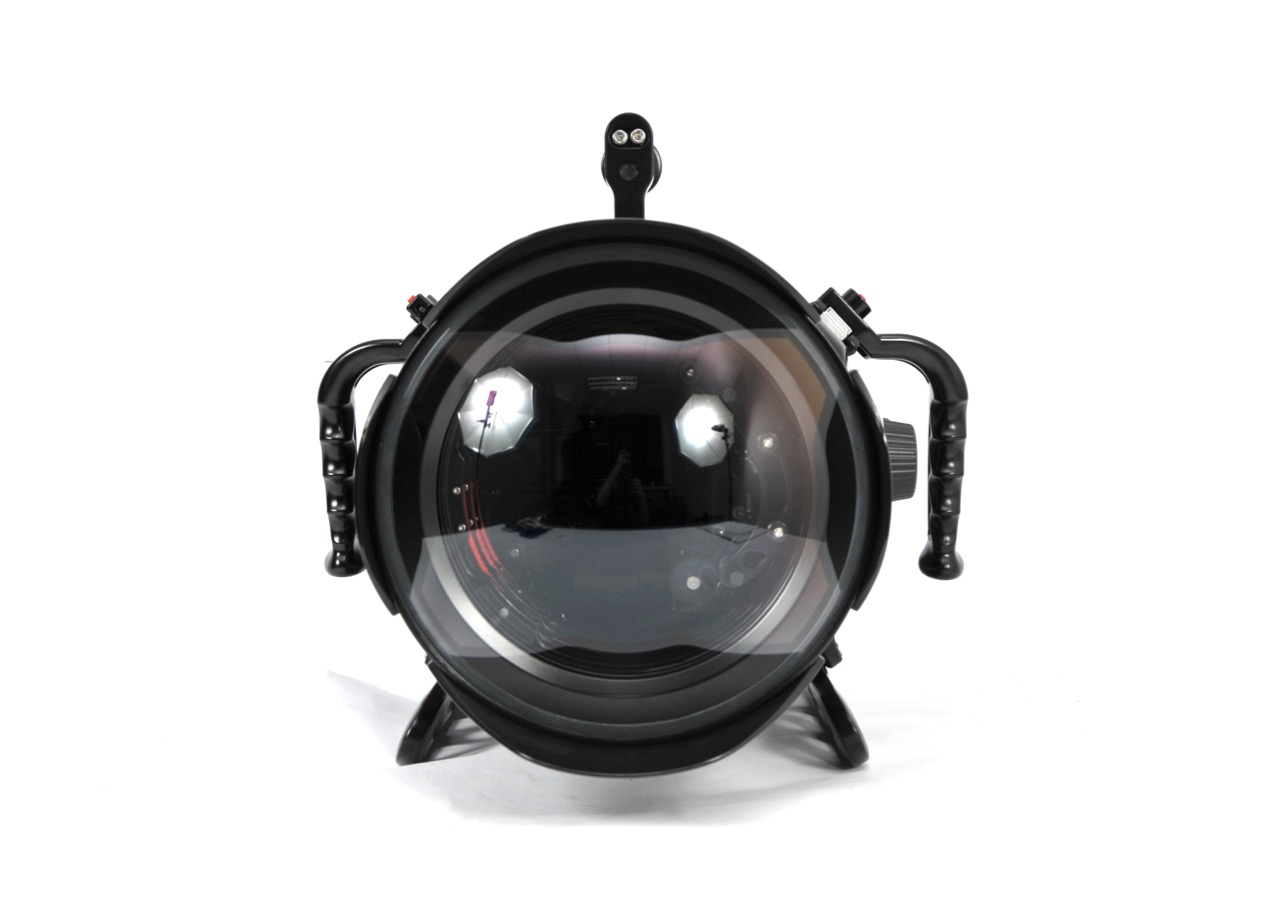 Optically Coated Glass Dome Port
Our exclusive 250mm optically coated glass dome port is supplied with every system, and we believe it is the best optic available for cinema lenses.
The 250mm dome port diameter - 10 inches - is a key for good wide angle imaging performance with many cinema lenses underwater. Smaller domes can work well with close focusing SLR lenses, but many cinema lenses have a longer minimum focus distance in the .35-.40m (14-16") range.
Using Arri Master Prime T1.4/14mm, with its .4m MFD as an example, the 250mm dome provides clearly superior results over smaller domes. Images have higher overall sharpness, and much higher corner sharpness with the 250mm dome. This is the very same port used in the optical system designed in conjunction with HydroFlex for Alexa65, and used in feature film work.
The glass dome is rugged, and extremely resistant to scratching. Broadband Anti-Reflective Coatings eliminate flare, reflections, and ghosting from the port optic. A robust machined aluminum shade protects the dome, and provides additional flare resistance.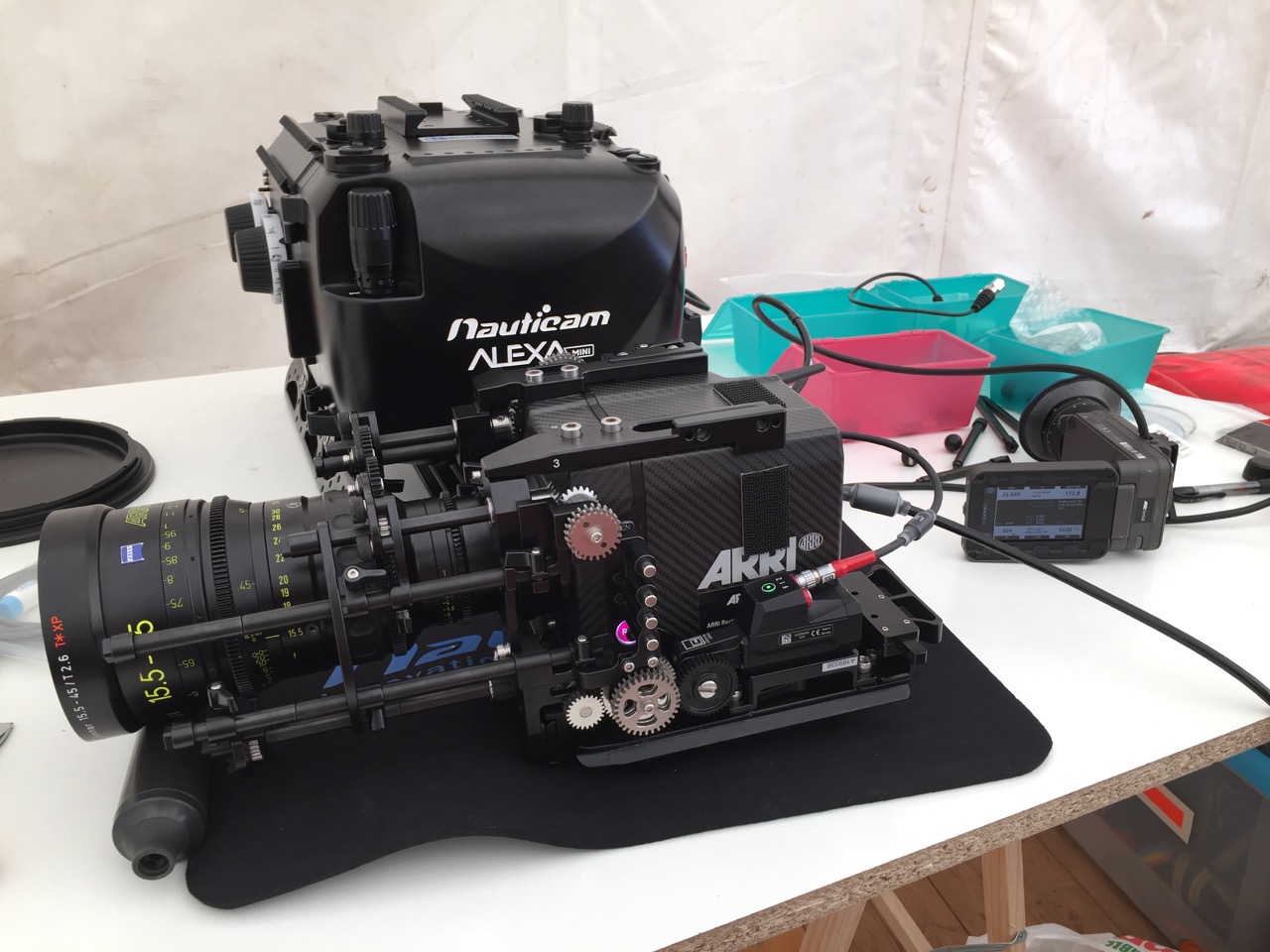 These motors are mounted on purpose built brackets affixed to the camera tray, and do not need to be removed when changing lenses, or when pulling the camera from the housing.
-
HD-SDI Cables
for Surface Monitoring
- 4-Pin Waterproof
LCS Cable for WCU-4 Control
of 3 Motors and Camera Functions - Ethernet for Surface Camera Control
- ARRI 
"cForce mini"
Motor Mounting Brackets
The housing also ships with two 3/4" Hydroflex Bulkheads allowing the power, remote control, and remote monitor umbilicals from other Hydroflex rental systems to be used on Alexa Mini.
Easy Camera Setup
Designed with both owner/operator and rental markets in mind, the Nauticam system is very easy to build. Armed with only a coin and #3 allen wrench, the entire support and lens control system is constructed on the camera base plate outside of the housing. This means the the camera, lens, lens control system, and even motors can be built on a table, in good light, with plenty of working space. Once the camera is assembled on its tray, the entire system slides into the housing, and locks securely in place.
Lens changes are just as easy, with accessed through the large 200mm port opening, or even more easily by pulling the camera and lens out of the housing back door for unencumbered access.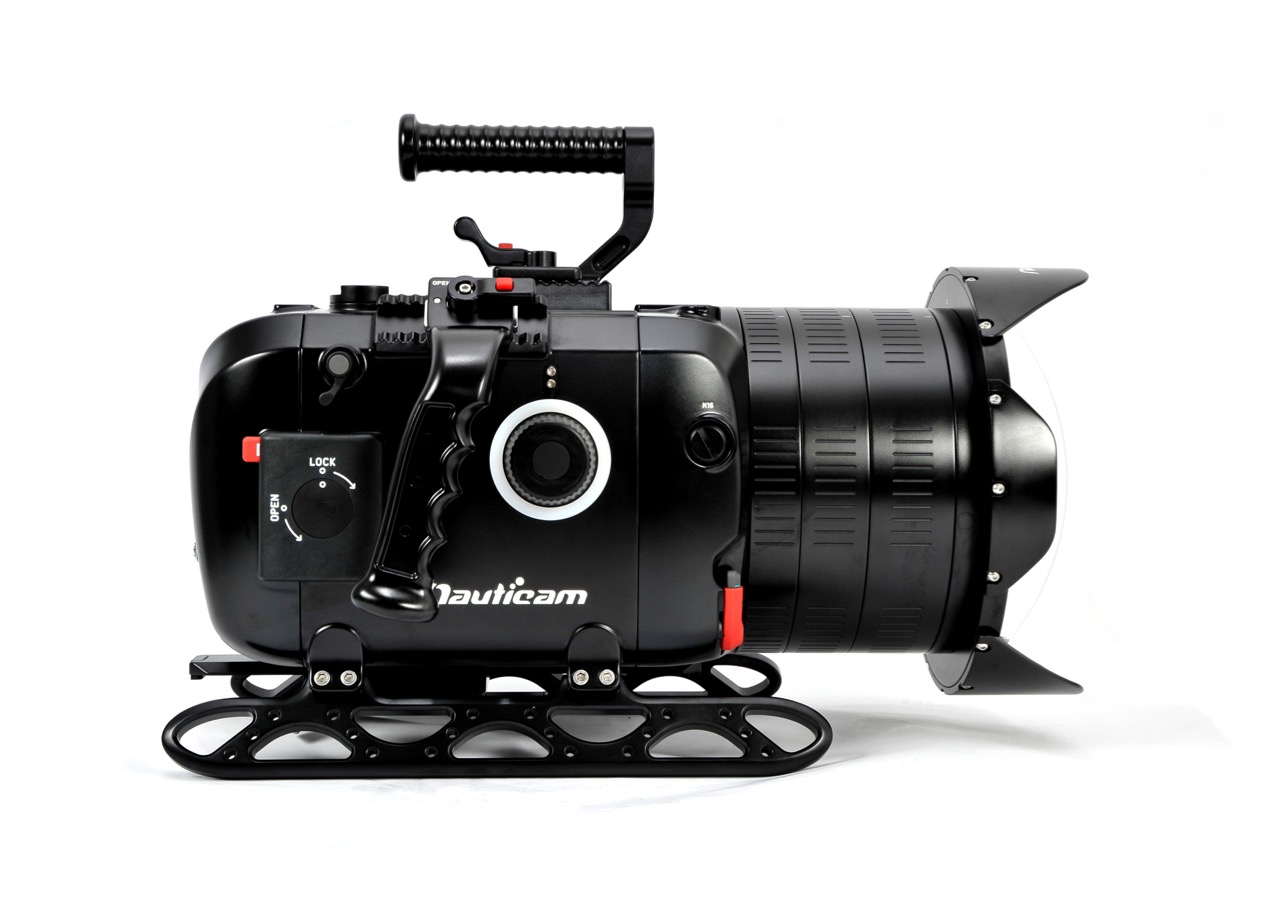 BLUE 2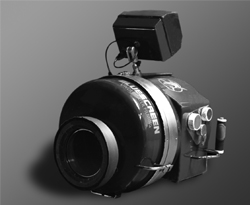 A multi-format underwater housing with an electronically controlled internal system, engine programming, signal processing, etc ...
Dome Port and Flat Port.
The Housing Blue 2 is our latest design and allows the use of almost all cameras and formats. Last upgrade: Phantom Flex 4K, Red Weapon / Hellium.
Made entirely from marine grade stainless steel, the Blue2 can work in the harshest conditions without jeopardizing the integrity of the camera housed inside and on the other other hand is very easy to use.
The electronic configuration is stored in a eprom which allows to configure the camera model. Within minutes we are able to go from working with an Alexa-Amira  to an ARRI 435 or an Epic. It supports multiple outputs and it's possible to send to the surface a HD-SDI dual link, 3G, cat6 ethernet. It has a remote engine ScorpioFocus focus or Arri (Preston in preparation) and external power.
It is a housing with avery reliable features that perfectly complements our other Hydroflex equipment.
| | | |
| --- | --- | --- |
| Digital Cameras: |         | Arri ALEXA (all models), Arri AMIRA, Red EPIC-WEAPON-HELLIUM , Phantom HD Gold & Flex-Flex 4K, Red One, Camcorders Sony, Camcorders Panasonic, Photron, etc. |
| Film Cameras: |   | ARRI 435, ARRI 235 (with a 435 magazine), ARRI 16 SR III. |
| Lenses: |   | Ultraprimes, Master Primes, S4 - S5 Cooke, Lomo, Hawnk, Angenieux Optimo 15-40, and Arri Zooms |
| Signals to surface: |   | HD-SDI, Dual Link HD-SDI 3g, Ethernet Cat7, external power (12V to 32V). |
| Control Lenses: |   | FFocus, Iris y Zoom with underwater control. 3 ScorpioFocus or ARRI control motor with surface controls. Dome and Flat port. |
DW 435 Housing for the ARRI 435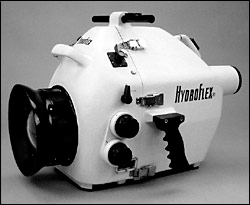 The DW 435 is relatively simple and easy to use in the water. This housing was designed to work with the Arri 435 IVS with a 122m chassis. It can be mounted /assembled together with different lenses, Cooke, Panavision or Zeiss. The dome and flat port are interchangeable.
With its own lense and through the eye of the camera, the operator is able to see a large and clear image. The display port extends behind the rear of the housing to provide more space and making it possible for the camera operator to place his mask as close as possible to the viewer, allowing for a comfortable working position. Both the focus and the iris controls of the lens are to be found in the front left of the housing and can be easily viewed and adjusted by the operator or the assistant.
We have incorporated a witness camera near to the lens and an 2.5" external monitor so enabling the assistant to see the marks of the lens from the outside. There is also a direct view of the meter counter from a side window and from another window the display indictions can be seen.
Two Anton Bahuer lithium batteries provide power to the camera and can shoot multiple chassis unchanged.
NOTE:  The 435 Extreme does not work with the radio module FEM 2.
Underwater Housing for Sony a7s II + Underwater Housing for Atomos Shogun.
Nauticam NA-A7II Underwater Housing for Sony a7 II Full Frame Mirrorless Camera. The NA-A7II ships with built-in, yet adjustable handles, featuring Nauticams famous contoured rubberized grip. The AF/MF/AEL button is given special treatment on the right side of the housing with a direct access lever immediately reachable by the right thumb. This allows the button to be programmed for AF-ON meaning thumb focus fans can easily have perfect functionality. The shutter release can be accessed at the same time, offering extremely quick focus-to-shoot finger action. Like many Nauticam housings, the play button is brought up to the left thumb, and the three command dials (think shutter speed, aperture and exposure compensation) can be adjusted quickly with minimal reach. The ISO button is within short reach of the right thumb, important for video shooters. Speaking of video, the record button is on the top right, thus eliminating camera shake during video start/stop.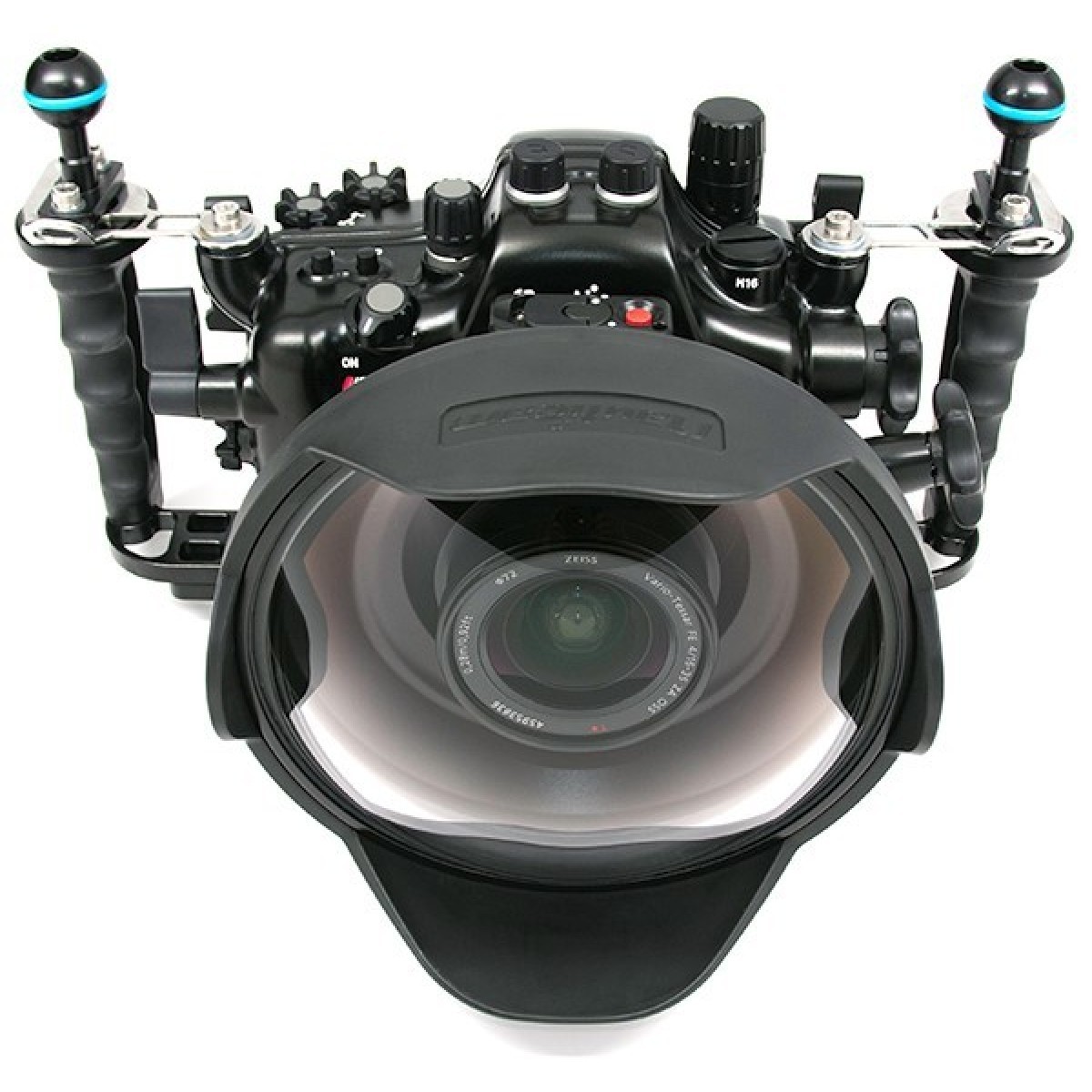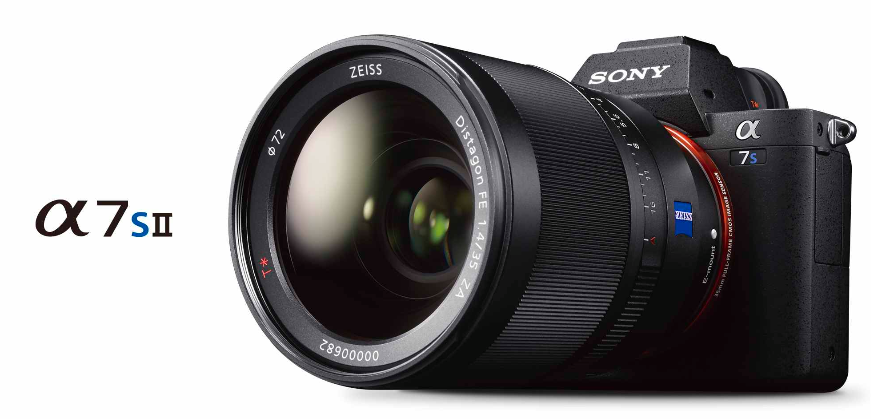 The Atomos Shogun has given pristine 4K ProRes & DNxHR  to many cameras, and is basically a required attachment for 4K capable cameras like the Sony A7s II, which do not offer 4K 4:2:2 8 Bits internal recording and have to use an external recorder to get for 4K 4:2:2 recording via HDMI. Nauticam is making an awesome dedicated underwater housing for the Atomos Shogun 4K recorder that will make a lot of adventurer underwater shooters very happy. This Nauticam Housing it's top notch pro quality. And the last thing you want to do with underwater shoots, is to compromise on quality and not protect your 4K recorder investment.
With Sony a7s II + Atomos Shogun you have HD-SDI video signal in surface.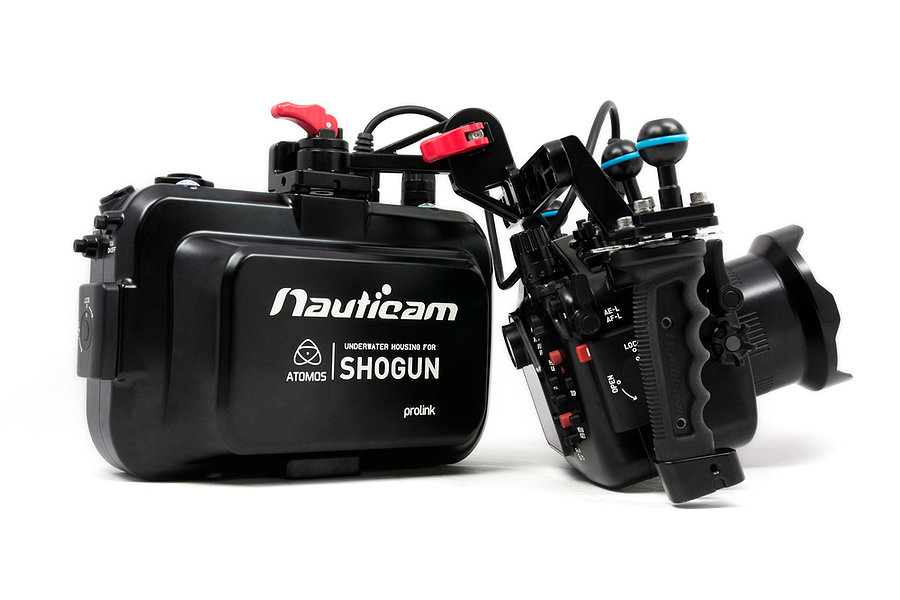 5D MKII Housing exclusively for the CANON 5D MARK II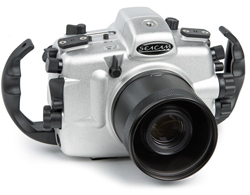 Underwater housing for the Canon 5D MKII with various lenses.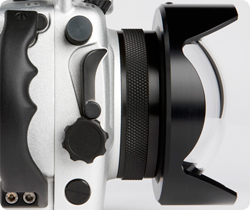 This housing is made with the best aluminum alloy anodized twice with a special hard coating system, ensuring a robustness not found in other housings.
The versatility and easy handling of this housing makes this a useful alternative in situations where the provision of a higher quality camera is not possible.