The underwater services that we offer...
Filming underwater with Camera-Operator.
Our camera operators are technicians with extensive experience in film and advertising. They have the professional diving qualifications required by law to work underwater in Spain.
Underwater Housing Rentals.
We rent several different models of housings and accessories: Hydroflex, RAC, Hydrohead for use in pools and in the sea and a Hydroflex SplashBag for surface use and full protection from rain or other wet conditions
Underwater Lighting Rentals.
We have available for rental the Hydropar 1200 HMI, Hydropar Tungsten 2K, HydroFlo fluorescentes, AVC Tungsten 250W, Downlights LED 4300Lm with batteries.
Advice and Logistics.
We can provide the organization and planning of underwater filming, based on our many years of experience. Professional diver support. Logistics and boats. We have a large worldwide database of contacts, locations, diving centers.
HD image Bank.
Over 1000 hours of underwater sequences from oceans around the world (HD 1080p). The Red Sea, the Maldive Islands, the Seychelles, Indonesia, Bali, Papua, the Solomon Islands, French Polynesia, Cocos Islands, Malpelo, Colombia, Venezuela, Honduras, Mexico, Bahamas, Cuba, the Canary Islands, Eight different countries from the Mediterranean Sea, the Azores Islands, Baltic Sea ...
Production and Distribution.
The production & sale of our documentary series: "Seas and Oceans I and II" and "Mediterráneo.Sub I and II". Updates on our new projects.
Main Services. 

Hydroflex
Agent
Since 2009 we have been Hydroflex Inc. agents in Spain. From our office we manage a variety of Hydroflex rental equipment from Spain and the U.S.A. We guarantee the lowest prices in Europe.

International
Production
We work in both Spanish and International productions. We participate in the filming of the majority of underwater spots and films that are shot in Spain.

Spanish
Suppliers
We work with all camera rental companies in Spain and they rely on our services. After 15 years working in this environment we continue to provide the same impeccable service and the utmost care with their cameras.

Production
Capacity
With the Hydrohead, the Alexa RAC, the 435 Deep Water, the Red Epic Housing, our housings, Blue1 and Blue2, Housings for Phantom / Photron, the Seacam housing for the 5D MKII, etc ... We can tackle any type of shoot.
Shoot Planning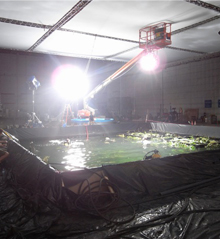 We believe that it is essential and important that our client maintains a direct communication with us prior to starting on any underwater projects.
Filming in an aquatic environment has some important limitations, but not insurmountable ones.
We believe that with proper planning, the shoot, which could involve some tricky situations, can be made a much simpler process. Therefore, we recommend that before shooting that you contact us so that we can study together all the details of the production.
Development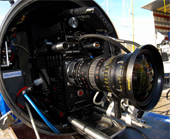 Several of our housings can hold different models of cameras.
Our housing, Blue2, can fit almost any model of camera. Working with a new camera, a new format, with new communication protocols, etc. .. can be possible, just get in contact with us.
We were among the very first people to shoot underwater using an ARRI 435 in 1997. And again in 2000, when we recorded sequences of Julio Medem's film "Sex and Lucia" with a Sony HDW-F900. Sony Japan sent us a prototype of this camera so that we could adapt it to suit our housing, Blue1, since at that time this camera was not on sale commercially. We were also the first to record at 1000 fps underwater with the Phantom HD Gold.