SplashBag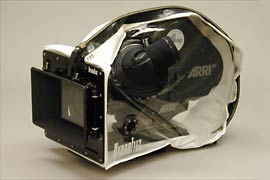 HydroFlex makes a full line of splash bags to accommodate a variety of cameras. More than a rain cover, a splash bag is a sealed unit with a custom dry-suit type zipper that allows easy access to a camera while ensuring full protection from rain or other wet conditions. It can be used hand-held or mounted on a tripod or crane. A splash bag combined with our HydroHead remote pan & tilt head, allows smooth seamless remote camera use in rain, a dump tank, a boat, or any other wet location. Click here for more information about the HydroHead. Splash bags are not immersible and should be used for surface use only. For camera protection while filming underwater, see Camera Housings.
All of our splash bags have integral spray deflector systems to prevent water drops from collecting in front of the lens. Splash bags are equipped with either the HydroFlex air-powered spray deflector system or a spinning disc system. An internal defogging system keeps condensation from forming in front of the lens.
Once it's in a splash bag, the camera's lens control can be achieved with a Preston remote system or manually with a follow focus whip. Clear side panels on the bag allow easy viewing of lens and camera settings. Magazine changes and most lens changes can be made easily without removing the camera from the bag. The viewfinder retains over 90º of rotational adjustment.
Inside the bag, the camera position is fully adjustable to accommodate several different lenses. Outside the bag, the mounting base remains adjustable, enabling the system to be balanced on a head regardless of the lens chosen. A built-in matte box accepts accessories including eyebrows and hard mattes.
Most of our bags can be fitted with optional, externally mounted waterproof monitors. Standard definition or HD can be used according to which camera you are using. See our monitors page for details.