The Impossible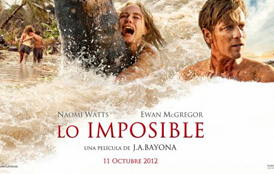 Film, "The Impossible", J.A.Bayona.
An amazing Spanish film based on the terrifying tsunami that hit the coast of Thailand in 2004. (2011/12)

 

Hola

 

 

 

 

 

We worked on this spectacular film by J.A.Bayona, which was produced by Apache Entertainment & Tele 5 Cinema, together with the Director of Photography, Oscar Faura. This production has, to date, been one of the most important challenges we have faced in our careers. We filmed with the ARRI 435 and in digital with the Phantom HD Gold and we used MasterPrime lenses. The scenes were difficult and complicated, as we were constantly being dragged about by the huge amounts of water used to recreate the Tsunami. In this shoot for the riskier scenes, we used our Underwater housing, Blue2, both above and below water. During the calmer moments we used the Hydroflex DW 435 and the HydroHead /RCA 435 for the more complex motion shots. For some of the scenes we also assembled and used the Hyrdoflex Third Axis. In one of the most famous scenes, the destruction of the hotel and its surrounding bungalows, we used our full arsenal of camera housings: Five Hydroflex DW 435, our Blue1 as a crashcam and our Blue2 for the full frontal impacts with the wave and debris and also two sets of smaller cameras.